West Point Lake – Troup County, GA
Troup County's Oakfuskee Conservation Center is thrilled to announce its new logo and brand identity. This highly anticipated project promises to be one of the most impressive event spaces in the Southeast, and the new branding is a testament to the center's commitment to excellence, heritage, conservation and community.
---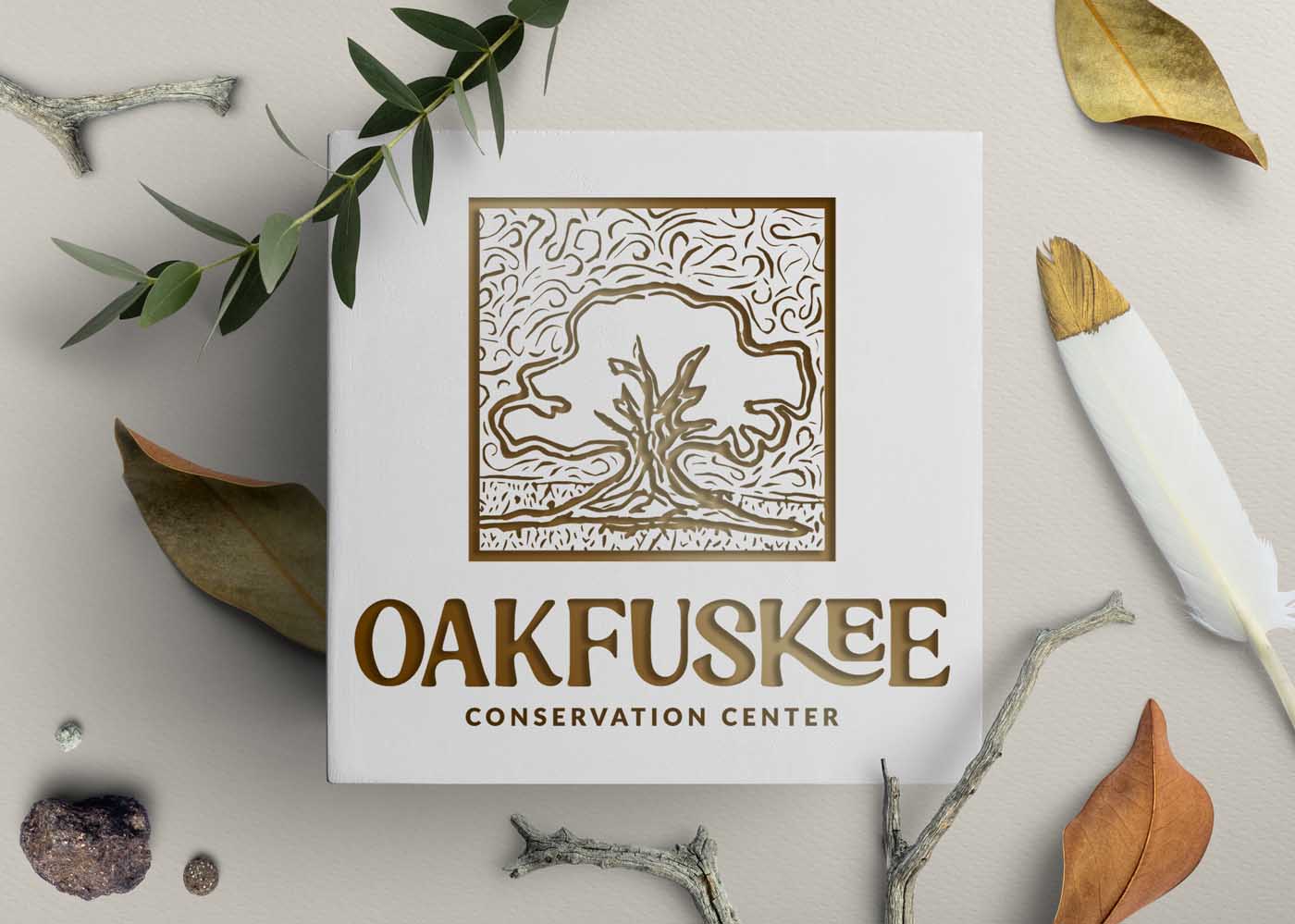 The brand was selected after a rigorous and collaborative design process, paying homage to the land's history and natural wonders. Oakfuskee Conservation Center partnered with a local advertising agency, Atomic Brand Energy, to develop the logo identity. Their inherent curiosity, attention to detail and strategic thinking resulted in a design that stands out as distinctive and memorable.
Andy Fritchley, owner of Atomic Brand Energy and a Certified Brand Strategist, is really proud of this project and honored to be a part of the creative process. "The new logo nicknamed 'The Special Tree,' evokes a feeling of being surrounded by nature. It incorporates traditional linocut illustrations to infuse an indigenous and authentic style into the design. The wordmark's letterforms are organic and irregular, mimicking the property's natural elements, and each illustration was hand-drawn, then constructed using printmaking techniques," he said.
The Oakfuskee branding suite will be prominently displayed throughout the venue, with a natural and grounding color palette featuring warm earth tones, calming greens and blues. The logo designs will also be showcased on parking and trail signage, creating a cohesive and welcoming experience for all who visit.
As the December grand opening is quickly approaching, Oakfuskee Conservation Center is excited to provide an unparalleled experience for guests looking to immerse themselves in the great outdoors and learn more about the region's rich history. The event calendar for 2024 is now open and available for bookings. Whether you're planning a corporate event, a wedding, or exploring the idyllic wonders of West Point Lake, Oakfuskee Conservation Center is sure to deliver.
---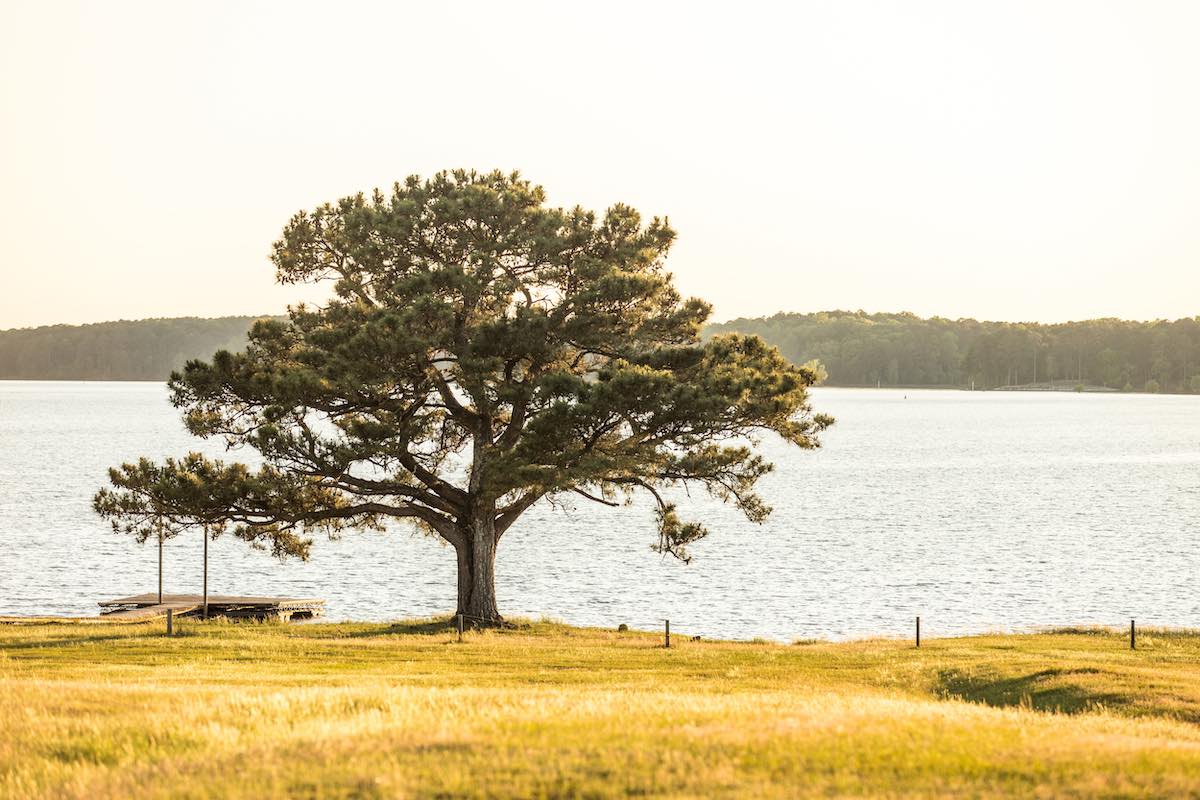 About Oakfuskee Conservation Center
Nestled on a picturesque point of land (the translated meaning of "Oakfuskee") with breathtaking views of West Point Lake and Pyne Road Park's forests, the center boasts 25,000 square feet of event and classroom space, offering the perfect backdrop for visitors to enjoy.
The first level of the center includes an indoor banquet area that can accommodate nearly 350 guests, an outdoor covered banquet area, a grand foyer and veranda, catering kitchen, offices and restrooms. The downstairs lower level is designated for office and classroom space that will be utilized by Chattahoochee Riverkeeper, in conjunction with local schools and organizations. Floating classrooms, dinner cruises and educational events are a welcomed addition to this lakeside sanctuary.
In addition to its stunning indoor event spaces, the center will offer an extensive array of outdoor activations and amenities, perfect for nature enthusiasts of all kinds.
Hiking, biking, horseback riding and kayaking will ignite and inspire visitors to revel in nature's splendor. Birdwatching stations will also be scattered throughout, allowing guests to observe a wide variety of avian species in their natural habitat. And for those looking for a bit of friendly competition, the disc golf course is sure to provide hours of entertainment. Plans for an outdoor amphitheater to host sustainable food festivals and concerts are also underway.
But it's not just about recreation at Oakfuskee Conservation Center. The center is committed to environmental stewardship, as evidenced by its plans for reclaimed waste art installations. These stunning works of art will be made from materials that would otherwise end up in landfills, offering a powerful statement about the importance of conservation and sustainability. It will also include an historical section of artifacts, educating visitors on the Oakfuskee tribe's history, adding a touch of culture and heritage to the facility.
For more information and updates, visit Oakfuskee.com.